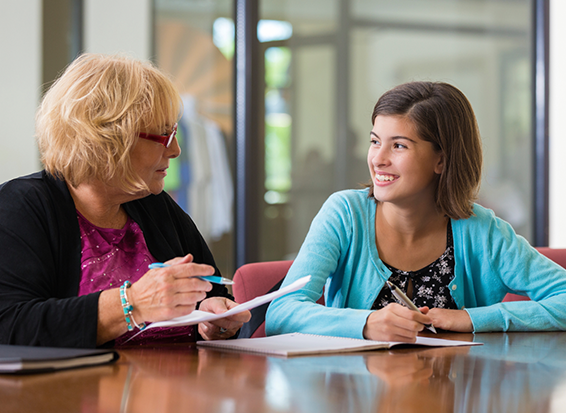 The Family Peer Support Program provides direct peer support services to families with children who have medical, mental, or behavioral health challenges. Our Family Peer Support Specialists assist families who need to navigate the special education and mental health care service systems. Services can include education on caregiver and child rights and responsibilities and attending meetings – e.g., planning and placement team (PPT) meetings – with families. Working collaboratively with parents/caregivers, youths, schools, and other service providers, Family Peer Support Specialists empower families and help them participate fully in the development of their child's care, so that they can advocate on their own.
Our goals are to:
Help families and providers work together to improve outcomes for children with medical, mental, or behavioral health challenges
Guide, educate, and empower families to learn how to advocate for their children
Our values:
Family involvement in all aspects of their child's care
Families as equal partners in the planning, implementation, and evaluation of services
Build on family strengths and respond to the family's needs
Services that are responsive to the family's culture and community
Services that are provided in the home or community as the first option
Mutual respect and collaboration between families, schools, mental health professionals, and other service providers foster successful outcomes
What is a Family Peer Support Specialist?
Trained professional
A person with experience being a parent or caregiver of a child with emotional, behavioral, neurobiological, or mental health needs who understands the challenges that families encounter
Someone who will partner with you and your family to advocate for the services that your child needs
What you can expect from us?
Assistance becoming an equal partner in the assessment of your children's needs and the planning and implementation of services for your children
Help obtaining services that are culturally appropriate, family-centered, and community-based
Support so that your voice is heard and that you are an integral part of your child's educational plan
Collaboration with you and other service providers on your team
Help identifying resources, strategies, and services needed
Assistance accessing basic needs (food stamps, food pantries, etc.)
Informal and informed support
Education and support to empower you to become an effective advocate for your children

How to interpret tests, assessments, and evaluations
Understanding your child's diagnosis
Identifying your child's strengths and service needs

Empower you by giving you the knowledge and confidence you need to continue advocating on your own and never give up
What will be expected from you?
Share your hopes and dreams for the future (VISION)
Be open and honest about your expectations and concerns
Help us get to know your family

What are your, and your family's talents, hobbies, etc. (STRENGTHS)
What do you see as barriers to having a better future (NEEDS)

Help us find out who can become part of "your family's team" to support you at meetings about your child
Full participation in planning and preparation for all meetings regarding your child and family
Maintain regular contact with your Family Peer Support Specialist through meetings scheduled, emails, and phone calls
For more information contact:
Referral and Triage Coordinator
Phone: (860) 563-3232
Fax: (860) 563-3961
Email: refer@favor-ct.org